2018 Sale Highlights
78 Bulls Offered : 71 SOLD
Top Bull Price : $26,000
Average Bull Price : $7,740
---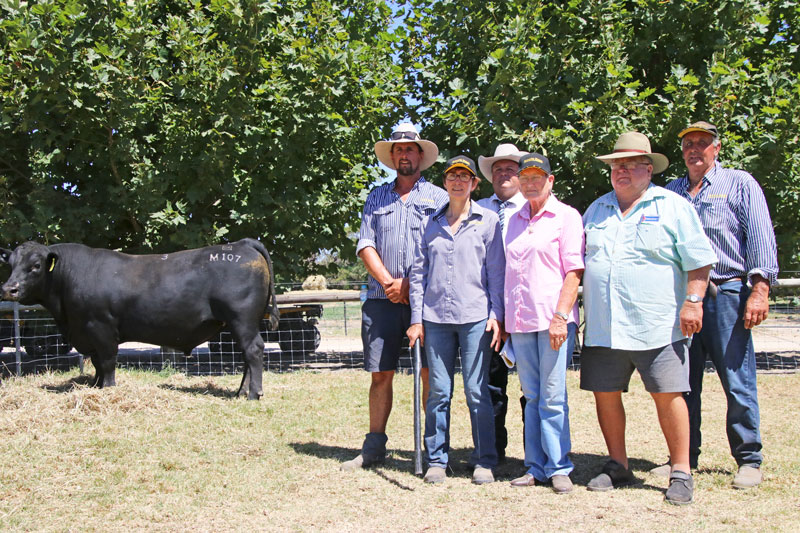 The 2018 Sale Day for Granite Ridge Angus was sweltering, and we appreciate the number of people that came out despite the weather.
71 of the 78 bulls sold at auction, to a high of $26,000 and an average of $7,740 which was only $150 below 2017, and we feel this is a great result considering the drop in cattle prices.
The bidding was intense for Lot 3 Granite Ridge Magnificent M107, the heaviest bull in the catalogue, who took top price honours.  Selling to Allan and Coralee Gillogly, Montrose, Moree, NSW for $26,000.  They purchased Magnificent M107 to use over the best of their 2300 cows, to produce heifers to bring into their breeding program and steers to fatten in their feed lot for their top end markets.  They have been pleased with the performance of the Granite Ridge sired steers, that they have fed in the feedlot over the past year.
Magnificent M107 was a standout from a calf, with lots of eye appeal.  He carries his 1044 kg weight very well, being in the top 1% of the breed for all growth figures as well as Carcase Weight.  Sired by Texas Western Express H639, who had 12 sons sell in the sale for an average of $8,416.
The sales $21,000 second highest priced bull was another growthy young sire, Lot 28, Granite Ridge Mega Bull M162.  Purchased by Greg Fisher, Clover Ridge, Marcollat, who has purchased top end bulls for a number of years.  Mega Bull M162 was sired by home bred, Granite Ridge Kalahari K66, a TC Aberdeen son, who had 4 sons sell in the sale for an average of $10,000.
The first sons of Ayvale Jagger J12, purchased as top priced bull, at the Clifton All Breeds Sale, Hamilton, VIC in 2015, were keenly sought after and sold exceptionally well, with 7 sons selling for an average of $12,140.
Two sons sold to Angus studs.  Lot 12 Granite Ridge Majestic M78, knocked down to the Mayne Family, Texas Angus, Warialda, NSW, for $15,000.
Lot 15 Granite Ridge Majestic M113, sold to Roger Flower, Bridgewater Angus, Black Mountain, NSW for $,9000.  Bridgewater Angus also took home Lot 2 Granite Ridge Mastermind M114 a lovely Gatsby son, for $9,000 to use in their stud.
DA & AE Thompson of Ventura Livestock, Boyup Brook, bought a new sire for their WA stud, Lot 54 Granite Ridge Maximus M34, a Brave Heart son for $10,000.
It was pleasing to see many long-time customers seeking out these new genetics and taking home Jagger sons.
Gary and Jane Thorpe, Jacdavlyn, Reedy Creek took home Granite Ridge Majestic M8 for $15,000 and a H369 son Lot 60 Granite Ridge Magnificent M238 for an average of $11,500.
Will and Judy MacDonald, Blackwood Park, Strathalbyn again purchased a top bull, Lot 9 Granite Ridge Majestic M16 for $14,000.
Peter Murray, Kiwi Blue, Kangaroo Island, took home Lot 11 Granite Ridge Majestic M199 for $14,000, being the star of his purchases.  In all Wayne Hall of Platinum Livestock and Bruce Creek of KI purchased 14 bulls for Peter Murrays two KI properties, for an average of $6,070.
Michael Cobiac, ID & B Cobiac, Kingston SE, took home 2 Jagger sons, Lot 40 Granite Ridge Majestic M23 and Lot 48 Granite Ridge Majestic M215 each for $9,000, he also purchased a Foe son Lot 36 Granite Ridge Masterpiece M11 for $10,000, through Elders Kingston.
Other volume buyers, Hugh and Clare Bainger, Hillcrest Pastoral returned for the tenth year to purchase for there Conkar Plains Property.  They took home 10 bulls for an average of $7600, through Will Nolan, SAL.
Far North Pastoralists, Andrew, Paul and Mitchell Smith, Tieyon Station, Alice Springs, NT, took home a strong line of 10 bulls for a top of $12,000 and an average of $7,000, through Doc Cunningham, Trailco Industries.
Guest Auctioneer, Michael Glasser of GTSM, again worked his magic, keeping the sale rolling and we are grateful for all his praise and kind words about our breeding program.  He always says, "I cannot believe the width over the backs of your bulls and their beautiful skins".
There are many people to thank :-
Our Customers, especially those that come back year after year, and we welcome all the new buyers and hope we can have a long relationship with you.
All under bidders – you may not have taken a bull home this year, but you have contributed to the success of our sale – we hope to see you next year.
Our Staff, especially Alistair and his family, who always goes beyond the call of duty.
SAL for their services on the day and for settling for us.
The Caterers from the Kingston Hospital Guild who do an amazing job each year.
We want to say a special thankyou for all the kind and encouraging words about our breeding program that you have shared with us during the weeks leading up to the Field Day and Sale, it makes all the work worthwhile.
Colin and Pat