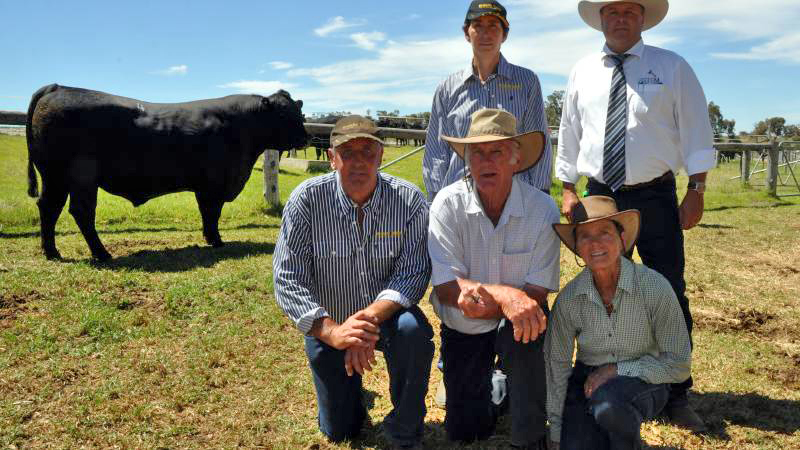 Granite Ridge was blessed with a lovely summers day for their 9th Annual Bull Sale and the sale complex was full. Michael Glasser of GTSM again was the Auctioneer on the day, and did an amazing job with help from the SAL boys and girls.
All bulls sold well with an average of $6,775 but the excitement went up a notch or two when Lot 4 Granite Ridge Kaiser K26 entered the ring. From the first bid of $15,000 things took off and excitement grew as the numbers went up – $20,000… $30,000… $40,000… $50,000 and finally being knocked down to Alan & Jan Robinson, Jarobee Angus, of Beechworth Victoria & Rennie NSW, for $52,000. Richard Metcalfe of Koojan Hills Angus was the losing bidder. Kaiser K26 is the best bull bred at Granite Ridge. He has an outstanding phenotype with a really good skin type. Having a moderate Birth Weight, calving ease & Early Calving through to growth rates in the Top 1% of the breed for 200 day, 400 day & 600 day weights, he ticks all the boxes for Carcase Weight, both Rib & Rump Fat, EMA & IMF, being in the top 5% or better for all Indexes. Sired by Te Mania Foe out of an exceptional cow from our outstanding Supreme Family.
Lot 4 Granite Ridge Kaiser K26 now holds the record for highest priced bull of all breeds to be sold on property in South Australia.
Six bulls made $10,000 or more, including Lot 3 Granite Ridge Kojak K61, which sold for the $15,000 second highest price to GT Fisher, Clover Ridge, Marcollat SA, purchased through SAL. The Dunoon Evident was a powerful young bull weighing 966 kg at 22 months of age.
JG & CK Clarke, Kingston SE, outlaid $14,500 for Lot 7 Granite Ridge Klansman K98 – one of three bulls purchased through MWJ for an average of $10,500.
Long-time Granite Ridge supporters Hillcrest Pastoral Company, Avenue Range, were the sale's volume buyers with 13 bulls for their Conkar Plains & Conkar Park properties, for a top of $7,000 and an average of $5540.
SAL Naracoorte purchased 12 bulls for White Corsair and Kiwi Blue – two Kangaroo Island properties for a high of $5,000 and an average of $3840.
Bulls were available for buyers in all price ranges and that is the way we like it. Everyone has the chance to take home a Granite Ridge Bull.
There was a pleasing mix of old & new buyers and we have to say a huge Thank You to all Buyers, Under-Bidders and Registered Buyers as it is all of you who make our sale a success.