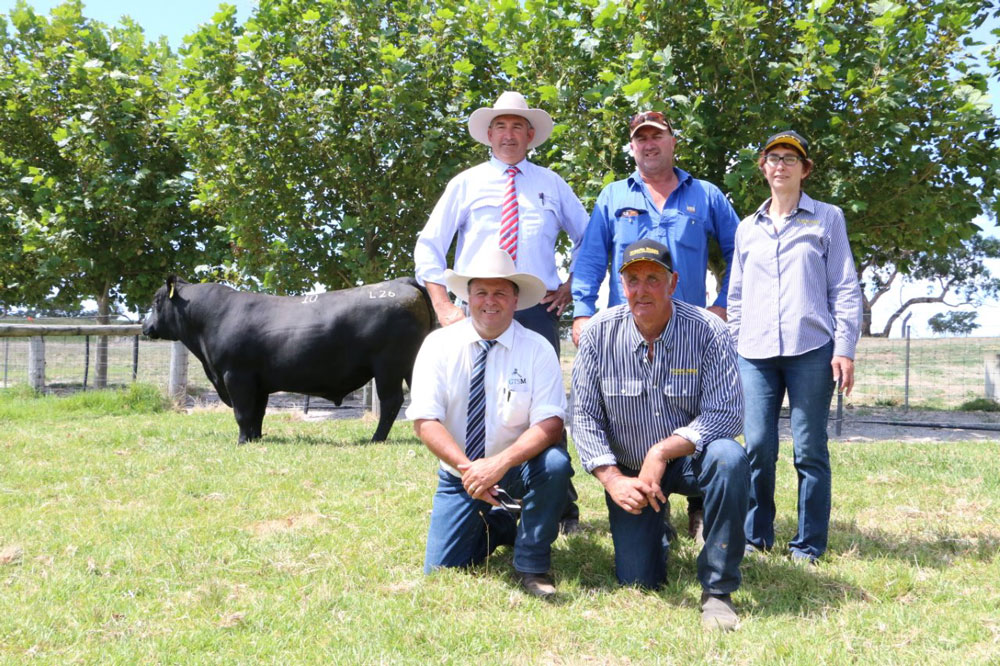 Our 10th Bull Sale was held on the 10th of February and we had a roll up of old and new buyers, representing three states. The bidding was strong and spirited, led by the expert auctioneering of Michael Glasser of GTSM, who with the SAL team did a sterling job under very hot and humid conditions.
Of the 74 bulls offered, 72 sold to a high of $25,000 and an amazing average of $7,890, an increase on 2016 of $1,115.
GT Fisher of Naracoorte SA purchased Lot 10, Granite Ridge Legend L26 for $25,000. An extra-long Foe son, who has excellent coat and structure. Legend L26 is in the top 5% of the breed for 200 Day Weight, 400 Day Weight, Gestation Length, Carcase Weight and the Heavy Grass Fed Index, and being in the Top 1% of the breed for 600 Day Weight, Milk and Angus Breeding Index. Mr Fisher purchased through SAL Naracoorte and added two other bulls to his team, Lot 4, a magnificent Foe son, for $10,000 and Lot 13, a powerful Neutron son for $10,500.
Lot 26 Granite Ridge Lusty L6 was purchased by Blackwood Park of Strathalbyn as second top priced bull for $16,000. A Witherswood Performer E49 son out of GR Dream H28, a Berkley daughter. Lusty L26 has a lot to offer, having huge depth of body and a powerful frame, coupled with good calving ease and low birth, to strong growth and high positive fat. Blackwood Park made another purchase, also taking home the third top priced bull, Lot 58 Granite Ridge Lime Light L108 for $14,000. Lime Light L108 is an outstanding GPS son with impeccable phenotype and figures to match.
Two bulls sold for $13,000. Lot 2 Granite Ridge Lazarus L89 an outstanding Theo son, to G Holcombe, Camp Creek Partnership, Branxholme Victoria and Lot 14 Granite Ridge Leader L92, a powerful Regent son, to Montrose Feed Lot, Moree NSW.
Volume buyer was P Murray, who purchased for his two enterprises on KI – White Corsair took home ten bulls with a top of $8,000 and an average of $6,000 and Kiwi Blue, for whom he collected nine Lots with a top of $12,500 and an average of $6,890, all purchased through Platinum, Adelaide.
Clair and Hugh Bainger of Hillcrest Pastoral selected a strong line of ten bulls for their Avenue Range property with a top of $10,000 and an average of $7,950, being purchased through SAL Naracoorte.
Trott & Warner of Kingston SE took home four bulls purchased through Miller Whan & John, Kingston, for a top of $8,500 and an average of $8,000.
Michael Cobiac of ID & B Cobiac purchased three bulls through Elders, Kingston, to a top of $12,000 and an average of $10,000 adding to his past Granite Ridge purchases.
We believe that there were good quality bulls available in every price bracket, with ten bulls selling for $5000 or lower and another 20 selling for $5,500 – $6,000.
We would like to thank all Buyers, Under-Bidders, Visitors, Staff and the Catering team for making the 10th Annual Granite Ridge Angus Bull Sale a huge success.
Colin & Pat