2012 Sale Highlights
67 Bulls sold at an average of $5,015
Top Bull sold for $14,000
New and return buyers from 4 states
Overall increase in bulls sold and average price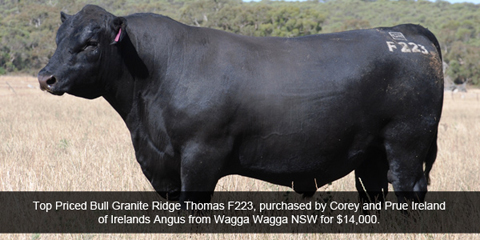 The Fifth annual Granite Ridge Bull Sale held on the 15th February 2012 was very successful.
67 bulls sold to a high of $14,000 and an average of $5,015. This was an increase over the 2011 sale with 9 more bulls sold and the average price increasing by $730. There was a large crowd with no empty seats. Registered buyers were from four states and the bidding was quite competitive.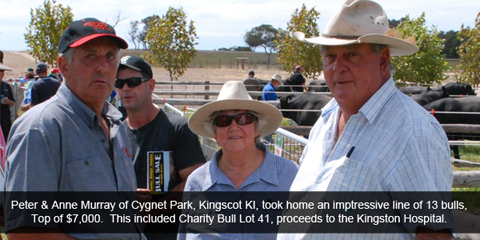 Lot 8 Granite Ridge Thomas topped the sale at $14,000, purchased by Irelands Angus of Wagga Wagga. Corey Ireland inspected Lot 8 before the sale with Willie Milne and said he was impressed with Thomas all round appeal, including his structure, his pedigree and the exceptional spread of EBV's. Sired by Thomas Grade Up over The Grange Imran Rosebud cow; A combination that ticks all the boxes. He will become an AI sire with semen being available shortly.
Second top priced bull was Lot 5, a very strong GAR EGL Protege son out of a Dream cow, sold to Phil Cooper (Chameleon Investments of Kingston) for $8,500. Mr Cooper purchased 3 bulls for an average of $5,500.
JG & CK Clarke, return buyers from Kingston, took home Lot 6, an outstanding Brost Trump son for $7,500, and Lot 1 for $7,000.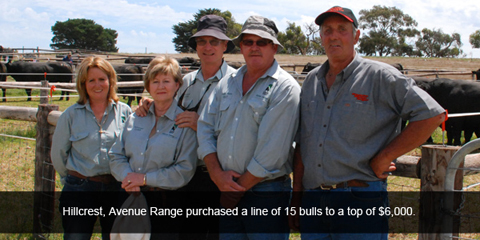 Volume Buyers were Clair and Hugh Bainger (Hillcrest, Avenue Range) who put together a line of 15 bulls for an average of $4,130 and a top of $6,000.
Return Buyers Peter and Anne Murray (Cygnet Park, Kingscote KI) purchased strongly throughout the sale and took home 13 bulls through Landmark, averaging $5,000 with the top price of $7,000 being paid for Lot 12, a well muscled Bismark son.
Overall a good mixture of new and return buyers.
24 bulls sold for $4,000 or less so there were bulls that were attainable for all buyers.