2015 Sale Highlights
58 Bulls sold at an average of $5,164
Top Bull sold for $16,500
Bulls sold into SA, VIC, NSW, WA & NT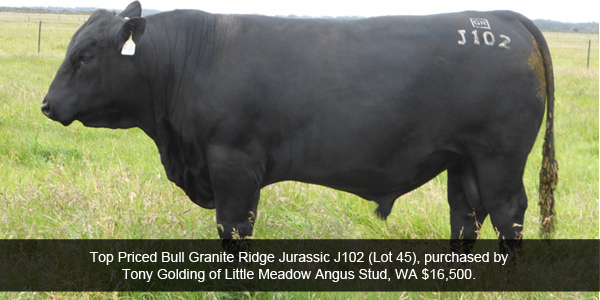 We were blessed with a perfect day for our 8th Annual Sale Day. The crowd was exceptional, the weather was mild, the Auctioneer and staff were amazing and the bulls were very well behaved.
A total of 58 bulls sold out of 66 offered, with an increased average of $714 being $5,164. This was very pleasing in the current climate and we would like to thank all our loyal and new clients for their support.
Michael Glasser of GTSM again was the Auctioneer on the day, and did an amazing job with help from the SAL boys and girls. Bulls were sold into 5 states and territories, SA, Vic, NSW, WA and NT. The top priced bull purchased by Tony Golding of Little Meadow Angus Stud, WA for $16,500 through GTSM. Lot 45 Granite Ridge Jurassic J102 is an ET son out of an outstanding Sire – TeMania Foe F734 over a thick Boorhaman cow, sired by Vermilion Yellowstone, who brought extra fat to the mating, Rib +1.5 & Rump +1.3. This coupled with strong 200 Day weight +46, 400 Day weight +86, 600 Day weight +120, EMA +6.1 and IMF +1.9 makes him a bull for all markets, with dollar index values all in the top 10-20% of the breed. To top this off Lot 45 has moderate Birth, good Calving Ease and stands on an impeccable set of shoes.
Lot 45's two ET brothers each sold for $7,000. Lot 23 to Will & Jody MacDonald of Blackwood Park, Strathalbyn SA who also took home Lot 7 another Foe son, for $7,000. Lot 45's other ET Brother Lot 52 sold to G & M Holcombe-Camp Creek Partnership, Branxholme Vic through LMB Linke Livestock. Camp Creek also took home a Regent son for $7,000.
In all we offered 20 TeMania Foe sons and 20 sold to a high of $16,500 and an average of $6,150 which was very pleasing.
Lot 10 Granite Ridge Jupiter J42 was purchased by Michael & Joy Gadd, The Glen Pastoral Co of Coojar, Victoria to use in their stud herd, for $14,000, being second priced bull. Granite Ridge Jupiter J42 is one of the first sons of the American sire KC HAAS GPS out of a Champagne dam. He is a magnificent bull with an outstanding set of EBV's, being in top 1% of the breed for 200, 400, & 600 Day weights, Carcase weight, Scrotal and all the Dollar Index Values. The Gadds also purchased their second pick, Lot 44, an ET Coonamble Z3 son out of a beautiful Dream cow.
The Smith Family of Lakeview Angus, Strathalbyn took home 2 outstanding Bulls to use in their bull breeding unit at Strathalbyn SA, Lot 1, a Regent son for $10,000 and Lot 24 a Highlander of Stern son for $12,000. Purchasing through Trailco, Alice Springs NT.
Return customers JG & CK Clarke of Kingston SA put together 3 outstanding young sires to a top of $10,000 and an average of $8,330 through Mike Newton, MWJ. Another MWJ Client, Trott & Warner purchased three bulls for $4,000 each.
Michael Cobiac of Kingston SA took home his first choice bull, Lot 21, a Foe son for $9,000 through Elders Kingston.
Volume buyers were return customers Hugh & Clare Bainger of Hillcrest, Avenue Range, who put together a very even line of 8 bulls to a top of $5,500 and an average of $4,125 through Southern Australian Livestock. Johnson Livestock, Naracoorte purchasing astutely through Spence Dix took home 4 very handy bulls to a high of $4,000 and an average of $3750. RJ & CM Savage of Naracoorte chose 3 Bulls to a top of $6,000 and average of $4,500 through Landmark Kingston.
Wonarah Pastoral, Padthaway SA purchased 3 bulls through PPHS for a top of $4,000 and an average of $3,660. Many bulls were sold from $3,000 – $5,000, being within the reach of all buyers, allowing them to bring a herd improving bull into their beef breeding operation.
To all buyers, under bidders, visitors, Michael Glasser, SAL and all our tireless helpers both with the cattle & catering, you have all helped make our Sale Day a success,
Thank You very much.
We thank you also for all the kind words and encouragement given to us on both the Field Day and Sale Day and we wish you all well for the future, for your success is our success.