2011 Sale Highlights
58 Bulls sold at an average of $4,285
Top price of $15,000 for Granite Ridge Waigroup E139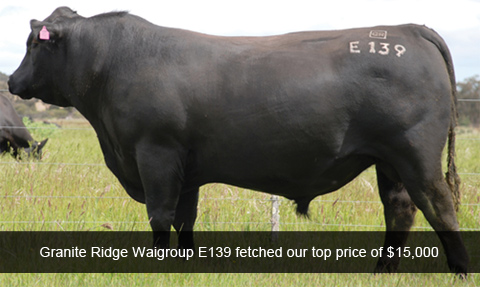 The fourth annual Granite Ridge Angus Bull Sale held on 9th February was very successful. 58 bulls sold to a high of $15,000 and an average of $4,285. Buyers competed keenly for the top genetics with a bull by a New Zealand sire Pinebank Waigroup over a strong Champagne cow being top priced.
Purchased by return buyers, Peter and Anne Murray, Cygnet Park Props KI, who had purchased ten bulls at the 2010 sale. They want to use Granite Ridge Waigoup E139 to develop a core of exceptional breeders on their KI property. Waigroup E139 has exceptional growth with a 600 day of +118 and being positive in both Rib & Rump fat. He weighed an astounding 1020kg on Sale day and looked well muscled and athletic.
Second top bull, a son of SAV Predominant, E51 was bought by Jarrod Phelps, Terre Angus, Cummins SA, for $9,500 and will be used in developing his stud herd. Another Predominant son was purchased by BA & JK Graham of Kadina SA for $8,500.
Volume buyers being return buyers Clair and Hugh Bainger, Hillcrest Pastoral, Lucindale, who purchased 12 bulls to a high of $5,250 and an average of $3,875. Their purchases included Lot 49, the $5,000 purchase price to be donated to the Kingston Hospital Auxillary. Frank Old from Balranald NSW and McCarthy Livestock of Naracoorte each purchased 6 bulls respectively.
We would like to thank all Buyers, Registered Buyers and Onlookers for making our 2011 Bull Sale a success.