2014 Sale Highlights
59 Bulls sold at an average of $4,450
Top Bull sold for $15,000
New and many return buyers from 3 states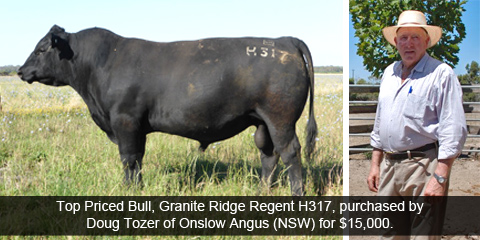 We were blessed with a perfect day for our 7th Annual Sale Day. The crowd was exceptional, the weather was mild, the Auctioneer and staff were amazing and the bulls were very well behaved. Michael Glasser of GTSM lead the day with help from the SAL boys, bringing his own style and enthusiasm. Bulls were sold into 3 states, SA, VIC and NSW – the top priced bull going to NSW.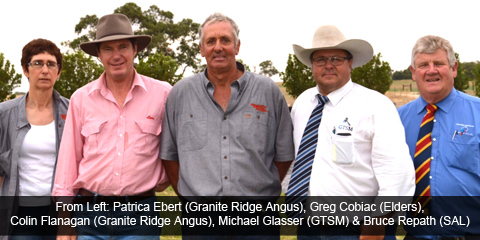 A total of 59 bulls sold, 5 more than 2013, at an increased average of $4,450. This was very pleasing in the current climate and we would like to thank all our loyal and new clients for their support.
The top bull, Lot 27 Granite Ridge Regent H317, created quite a bit of interest and the bidding was fierce. The winning bid of $15,000 came from Doug Tozer of Onslow Angus (Wallenbeen NSW), through Andy McGeoch of Elders Dubbo. H317 has length, thickness and frame, he is structurally sound and has an excellent temperament, having impeccable breeding and exceptional EBV's, being a trait leader in 12 traits. 400 Day Wt +98, 600 Day Wt +128, Milk +18, Scrotal +2.8, Carcase Wt +87, EMA +8.9, IMF +3.3, CAAB +$155 and all other Dollar Indexes. Doug was also the purchaser of the top bull in our 2013 sale, proving that our buyers are reaping the rewards of our exceptional breeding.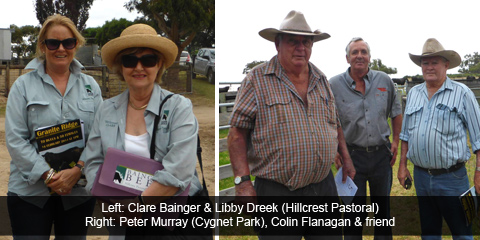 Lot 8 Granite Ridge CC & 7 H169 was purchased by Doug Robertson of Grassdale VIC for $7,500, being second priced bull through Landmark Hamilton. Dough was impressed with Lot 8's overall package, his breeding, phenotype, EBV's and temperament.
Mt Fyan Angus, Mortlake VIC, selectively purchased 4 bulls to a top of $7,000 these included 2 CC & 7 sons, a son of Theo and a Berkley. R. James of A7 Farms, Casterton Vic took home 2 bulls for $6,500 each, this included Lot 5 our cover bull, through BR & C, Swan Hill.
Volume buyers were Hugh & Clare Bainger of Hillcrest, Avenue Range, who put together a very even line of 12 bulls to a top of $4,500 through Southern Australian Livestock. Peter Murray of Cygnet Park KI, a long time customer of Granite Ridge, took home a strong team of 9 bulls topping at $5,500 through Landmark Strathalbyn.
A top of $5,000 was paid by L Price Nominees for 5 bulls, buying through Peter Dunn, PPHS.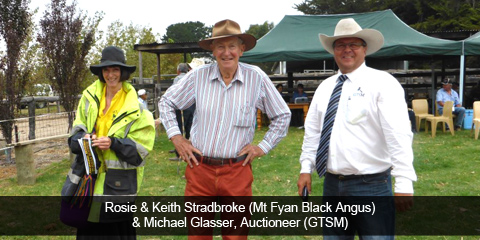 Mike Newton of MWJ purchased 5 bulls for three customers topping at $5,000.
Cows and Heifers sold to a top of $1,400 respectively. DJ & LA Howell of Yeelanna SA taking home 12 lots through Eyre Peninsula Livestock. CD & JL Muster of Mundulla SA, selecting 6 females and 2 Bulls, topping at $6,500 through Landmark Bordertown. A selection of 7 females went home with Phil Cooper, Chameleon Investments, Kingston SA, through Elders Kingston.
To all buyers, under bidders, visitors, Michael Glasser, SAL and all our tireless helpers both with the cattle & catering, you have all helped make our Sale Day a success,
Thank You very much.
We thank you also for all the kind words and encouragement given to us on both the Field Day and Sale Day and we wish you all well for the future, for your success is our success